Home > Product > Advance dosing type > Electro Servo Unit
---
Electro Servo Unit
Capacity controlled by input signal
– Electro Servo Unit is capable of combining with all kinds of pumps.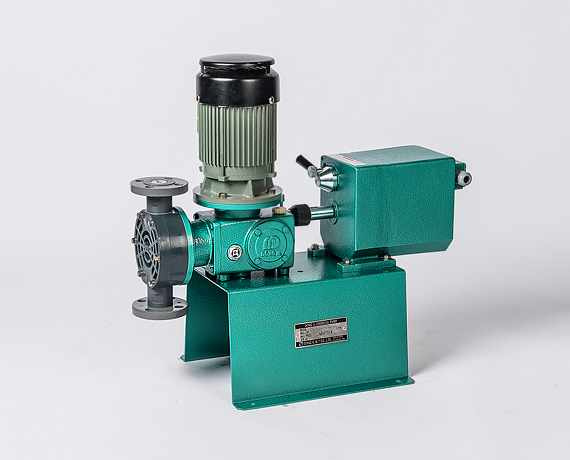 Features & Cautions
Auto-control by the input signal. (Diversity)
Dong-il Servo unit is able to control discharge volum of metering pump automatically by the input signal of flow, pH, turbidity etc. (DC 4~20mA/~1-+5V)
The whole type Servo unit
Dong-il Servo unit is sealed off by the whole type protective cap with automatic controlling circuit and servo motor on the pump. Accordingly, it's showing maximized function at indoor and outdoor.
Various controlling mode (Fixed Quantity)
Dong-il Servo unit is possible to control widely with invertor. Therefore it's not only transfer of fixed quantity but also most suitable at violent site of variation of operating condition.
Protective function for servo motor(Durability)
Dong-il Servo unit has been equipped clutch lever separately. So it gives protection of damages from the servo motor when have continuous operation of Auto/Manual.
Handiness of system (Simplicity)
Dong-il Servo unit is possible to do simpley instrumentation work because feedback and the other wiring are not necessary.
Above specifications are that should be changeable due to improvement etc without any notice.



Specification
• For all models
| | |
| --- | --- |
| Input Signal | 4~20mA, 1~5V DC (Impedance : 250 Ω) |
| Voltage | 1Ø 110V, 220V AC 50/60Hz |
| Protection | Equivalent to IP54 |
| Installation | Indoor or Outdoor (Except hazardous area) |


Servo Unit Control System



Servo motor output and stroke length as per pump series
UNIT 형식
Adaptable PUMP series
STROKE LENGTH (mm)
Motor (w)
DA 1
DWS, DWM, DWA20, DWA21
4
6
DWA31
6
DA 2
DWB40, DWB41
8
DA 3
DWB51, DWC51L
10
DA 4
DWB60, DWB61, DWC61L
12
DA 5
DWC71L
14
15
DA 6
DWC81L
16
DA 7
DKA
6
6