Home > Product > Compact dosing type (small size) > DS series
---
DS Series
Compact diaphragm dosing pump


Features & Cautions
Dong-il MT has created a time for silent and no defects pumps which unitary structure from geared motor to adjustment lever of liquid volume.
Maximized life with uniformed structure.
It is easy to use and maintain by compact design.
Using temperature : 0~50℃
Using viscosity : Below 50cp
Room temperature for pump : 0~40℃
Connecting type : Hose type(standard), Flange(optional)
Above specifications are that should be changeable due to improvement etc without any notice.



Capacity – Pressure Selection Table
Spec
DS-05
DS-10
DS-20
DS-30
DS-50
DS-80
DS-100
Dis. Capacity
(mL/min)
50Hz
45
99
206
287
435
698
984
60Hz
55
120
250
350
530
850
1200
No. of stroke
(SPM)
50Hz
48
96
96
113
96
158
238
60Hz
58
116
116
138
116
193
290
Max.dis Pressure (kg/㎠)
10(15)
8(10)
10
5
3
Motor
15W, 25W, 40W
Output(W)
15(25)
25(40)
40
40
40
1Φ
110V. 220V / 1Φ (Standard)
3Φ
220V. 380V. 440V / 3Φ(Order made)
Joint Hose
Φ6 X Φ9
Φ9XΦ13
Accessories
FOOT VALVE 1PC, ANTI-SIPHON CHECK VALVE 1PC
(※SUS304, SUS316, TEFLON: Special ) (Order made)
HOSE 3M
Weight (kg)
ABOUT 4.0
ABOUT 5.0


Head Structure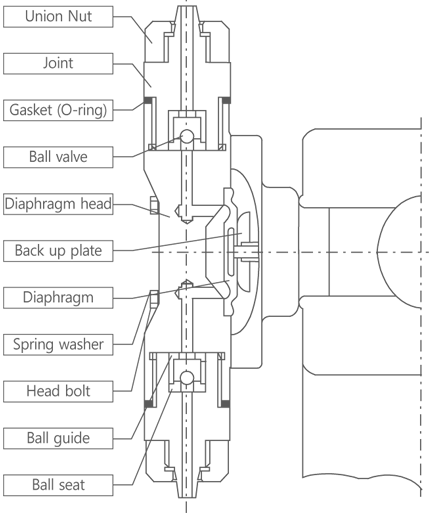 | | | | | | |
| --- | --- | --- | --- | --- | --- |
| No. | Symbol of material | PVCE | S7S7 | S2S2 | P4CE |
| 1 | Diaphragm head | PVC | SUS304 | SUS316 | PTFE |
| 2 | Diaphragm | PTFE/EPDM | PTFE/EPDM | PTFE/EPDM | PTFE/EPDM |
| 3 | Ball valve | CERAMICS | SUS304 | SUS316 | CERAMICS |
| 4 | Valve seat | PVC | SUS304 | SUS316 | PTFE |
| 5 | Ball guide | FPM | SUS304 | SUS316 | PTFE |
| 6 | Joint | PVC | SUS304 | SUS316 | PTFE |
| 7 | Union nut | PVC | SUS304 | SUS316 | PVC |
| 8 | Gasket | PTFE | PTFE | PTFE | PTFE |
| 9 | Hose | PVC | PVC | PVC | PTFE |


Application
➊ Swimming pool
➋ Septic tank
➌ Sterilizing water
➍ Simple prepared water
➎ Water treatment
➏ Feeding antiseptle
➐ City waste water
➑ Feeding various medical fluid


Dimension (Unit/mm)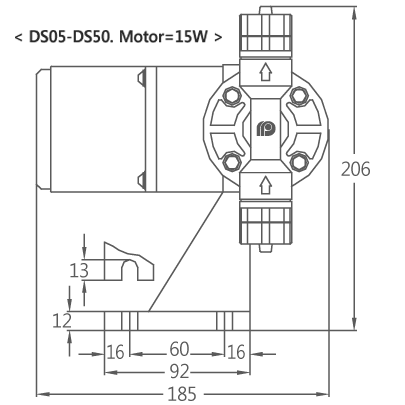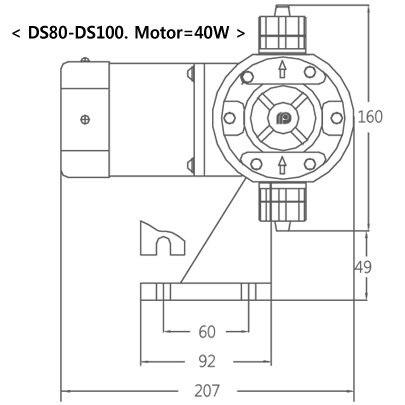 Anti-Siphon Check Valve / Foot Valve