Home > Product > Plunger dosing type (extremely high pressure) > DKA series
---
DKA Series
Plunger dosing pump with high pressure


Features & Cautions
Extremely good life by long operation.
Can be injected small volume of liquid with accuracy (Tolerance limits : ±1%)
Can be done transporting injection by high pressure (Pressure limits : 150kg/㎠ Max.)
The range of effective adjustment stroke : 20~100%
Using temperature : 0~100℃
Using viscosity : Below 300cp
Room temperature for pump : 0~40℃
The capacity increases the twice or three times or even more depends on head number.
DKB, DKC Series Structure Analysis
– It is different structure from DKB, DKC and DKA. Without spring to help suction process, the technique which is crank rod mechanism is adopted to this product.
– The suction and discharge process are very accurate more than the previous model due to crank rod mechanism.
– The crank rod mechanism guarantee the lager capacity and the higher pressure.'
Above specifications are that should be changeable due to improvement etc without any notice.



Capacity – Pressure Selection Table
Model
Plunger
diameter 
No.of stroke
SPM
Discharge capacity (mL/min)
Max.dis Pressure (kg/㎠)
Motor Output (kW)
Joint Size
mm
50Hz
60Hz
50Hz
60Hz
DKA
2
10
48
58
20
25
150
0.2
PT ½"
(KS16K15A)
5
10
96
116
41
50
10
15
96
116
83
100
20
20
96
116
166
200
100
30
26
96
116
248
300
50
50
29
96
116
352
430
25
0.4
60
30.5
96
116
410
500
20
0.4
70
32
96
116
615
740
20
0.75
DKB
5
35
48
58
500
600
100
0.75
20
35
96
116
995
1200
60
0.75
PT ½"
(KS16K20A)
DKC
5
55
48
58
1490
1800
50
1.5
20
55
96
116
3150
3800
40
1.5


DK Series diagrams
| | | | |
| --- | --- | --- | --- |
| 번호 | 명칭 | 재질 | 개수 |
| 1 | FLANGE | SUS304/SUS316 | 2 |
| 2 | JOINT | SUS304/SUS316 | 2 |
| 3 | BALL GUIDE | SUS304/SUS316 | 4 |
| 4 | BALL SEAT | SUS304/SUS316 | 4 |
| 5 | PLUNGER | SUS304/SUS316 | 1 |
| 6 | PUMP HEAD | SUS304/SUS316 | 1 |
| 7 | BALL VALVE | SUS304/SUS316 | 4 |
| 8 | GRAND PACKING | GLASS TEFLON | 1 |
| 9 | LOCK NUT | SUS304/SUS316 | 1 |
| 10 | BRACKET | GC20 | 1 |



Crank Rod Structure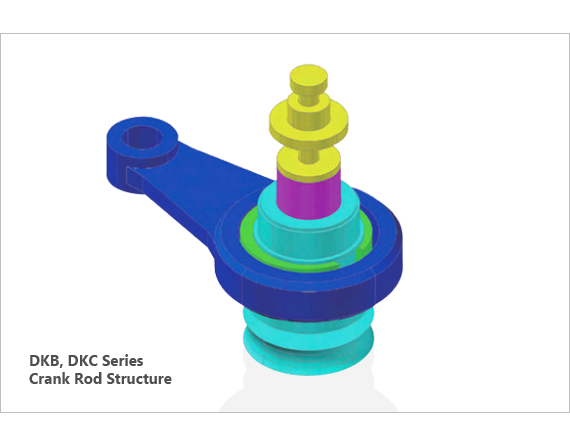 DK Series Performance Graph